Topics
Successful opening of AKARI's aperture lid
AKARI has opened its eye!
Because of trouble with the Sun sensors the opening of the aperture lid was postponed for about a month.
The operation was carried in the evening (in Japan) of April 13th. While the satellite was in contact with JAXA's Uchinoura Space Centre, the wire that fastens the lid was cut by the onboard time sequence program. Immediately after this, the signal from the FIS instrument dropped and we confirmed that it was observing the dark sky. After an orbit, the data transmitted to the ground confirmed that the Focal-Plane Star Sensor (FSTS) was seeing many stars and that the first glimpse of the galactic plane had been seen in part of the FIS data.
Now AKARI is in the performance verification phase. Both the FIS and IRC are operating fine. Some preliminary data have been obtained. Please stay tuned until we will present the first data to public in the near future.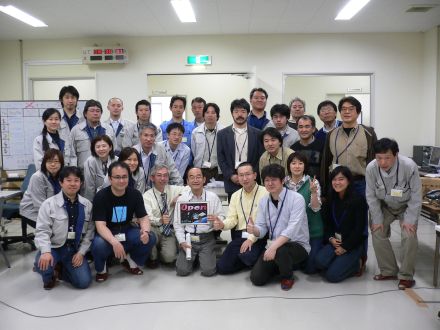 Photo: AKARI team in the Uchinoura Space Centre delighting in the success of the operation.